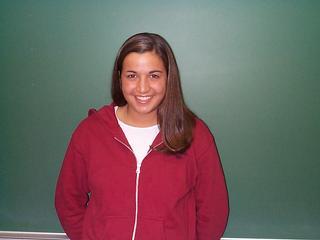 November 29, 2000. Today I asked Katie LaMonica to look at my website, I have asked her a few questions about my website. I asked her review my website's "beta" release.
1. How easy was my website to "surf", was it self-explanatory?
2. How was the interface, did it look cool? or did it suck?
3. Were you using Netscape? Or Microsoft Internet Explorer? -- If you were using Netscape it looks worse.
4. How many pages did you look at?
5. Did you find the information "useable," did you sit around and talk about it with your friends afterwards? or did you show someone while you were looking at it?
She answered:
All right, the website was very easy to surf. It was self-explanatory even to me who is the biggest computer illiterate person alive. I was in Netscape, and it looked okay to me, I bet it looks real cool in Microsoft. I looked at about 15 pages; I didn't have time to look at all of them, sorry. I told my roommate about it and how amazed I was. My roommate looked at it and said it was really cool. There are your answers.
The reason I did this exercise is to see if I am following my research. See, anyone can research a topic, but I am striving to use my research (of making a website) and attempting to actually make a good website. Therefore, this will be my last journal entry, and I will devote the rest of my scheduled FYS time to preparing and debugging my website. ~
Journal Entries

September 7, 2000
September 12, 2000
September 15, 2000
September 19, 2000
September 21, 2000
September 23, 2000
September 26, 2000
September 27, 2000
September 28, 2000
September 29, 2000
September 30, 2000
October 2, 2000
October 3, 2000
October 4, 2000
October 5, 2000
October 7, 2000
October 8, 2000
October 9, 2000
October 10, 2000
October 11, 2000
October 12, 2000
October 13, 2000
October 15, 2000
October 17, 2000
October 18, 2000
October 20, 2000
October 21, 2000
October 24, 2000
October 25, 2000
October 26, 2000
October 27, 2000
October 28, 2000
October 29, 2000
October 31, 2000
November 1, 2000
November 2, 2000
November 4, 2000
November 7, 2000
November 9, 2000
November 10, 2000
November 12, 2000
November 13, 2000
November 14, 2000
November 16, 2000
November 17, 2000
November 18, 2000
November 21, 2000
November 22, 2000
November 23, 2000
November 24, 2000
November 27, 2000
November 28, 2000
November 29, 2000