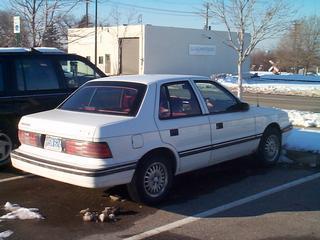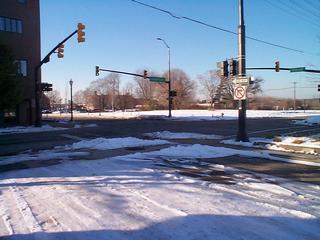 November 13, 2000. Today I got in a car accident. There was no damage, and no ticket, but it was a pain. I was driving down 8th street west toward the railroad tracks and the Columbia and 8th intersection. It was raining pretty hard and then I notice in front of me a truck slam on his breaks, the car behind him slammed on her breaks… All because one car decided to slam on their breaks, the three of us got in an accident. So there the three of us waiting for the police, and the car that caused the accident sped off before any of us could get their plates. See it's a common mistake, that intersection. A constant green arrow to people who are turning right, but when the other lane is stopped because they have a red light, the green light cars slam on their breaks, even though it's a green light. This leads me to my patterns of today:

A. Bad Drivers. America is made of bad drivers. No questions.

B. Bad Intersections. Every town I know has its "bad intersection". You know, that intersection that all the accidents happen on. And the City Council will never vote in favor for the Road Commission to change the intersection until one of the board members daughter (or son) gets into an accident in that intersection.
Journal Entries

September 7, 2000
September 12, 2000
September 15, 2000
September 19, 2000
September 21, 2000
September 23, 2000
September 26, 2000
September 27, 2000
September 28, 2000
September 29, 2000
September 30, 2000
October 2, 2000
October 3, 2000
October 4, 2000
October 5, 2000
October 7, 2000
October 8, 2000
October 9, 2000
October 10, 2000
October 11, 2000
October 12, 2000
October 13, 2000
October 15, 2000
October 17, 2000
October 18, 2000
October 20, 2000
October 21, 2000
October 24, 2000
October 25, 2000
October 26, 2000
October 27, 2000
October 28, 2000
October 29, 2000
October 31, 2000
November 1, 2000
November 2, 2000
November 4, 2000
November 7, 2000
November 9, 2000
November 10, 2000
November 12, 2000
November 13, 2000
November 14, 2000
November 16, 2000
November 17, 2000
November 18, 2000
November 21, 2000
November 22, 2000
November 23, 2000
November 24, 2000
November 27, 2000
November 28, 2000
November 29, 2000